Before we begin, will give you a few T words in Jamaica Patois.
Just a few, as one of my favorites is the word 'Talawah', I was always told it meant strong, but I have read it means Impressive. The saying I grew up with was, "Him lickle but him talawah", which means he is little but strong, or impressive.
'Ticky ticky' are those small fish you find living in fresh water streams and ponds.
Then there is 'Too nuff', meaning that someone is just so full of themselves.
Tamarind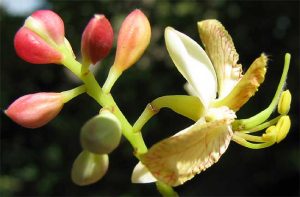 Its Latin name is Tamarindus indica. The fruit is found in the long pods that grow on a large bushy tree that, I have read, can grow up to 25 m and the tree has been known to live as long as 200 years.
In Jamaica you can find tamarind balls, which are sugar mixed with spices and the tamarind. I know too that you can make tamarind into a really good thirst-quenching drink.
I have just found that tamarind is is one of the ingredients in Worcestershire and HP sauce.[separator top="40″]
Tanagers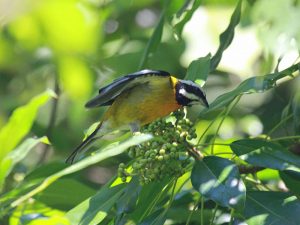 Tanagers make up the bird family Thraupidae, with around 250 species.
One of these is found only in Jamaica, the Jamaican Spindalis (Spindalis nigricephala).
The bird lives in mid to high elevations, eats fruit and is considered common. Its coloring is anything but common.
This is one species where the female is also brightly colored, with a yellow-orange body and a grey head. The male is shown in the photo.[separator top="40″]
Third World
Third World was formed in 1973 and took its inspiration from soul, funk and disco. Over the years the band has incorporated different styles of music, which has been described as reggae fusion.
After many years of success, in 2008 the band received a lifetime achievement award from Charles Drew University and in 2013, the group was awarded a Lifetime Achievement Award at the Jamaica Jazz and Blues festival in Montego Bay to celebrate their 40th year in music.
If you want to hear Third World go here: http://youtu.be/QEn4nMUe0NY. The album cover is from their most recent production.[separator top="40″]
Todus Todus
Or, the Jamaican Tody lives on insects, larvae and fruit. I have read that they are not shy, but are very difficult to see because they are so small and, of course, because of their green color.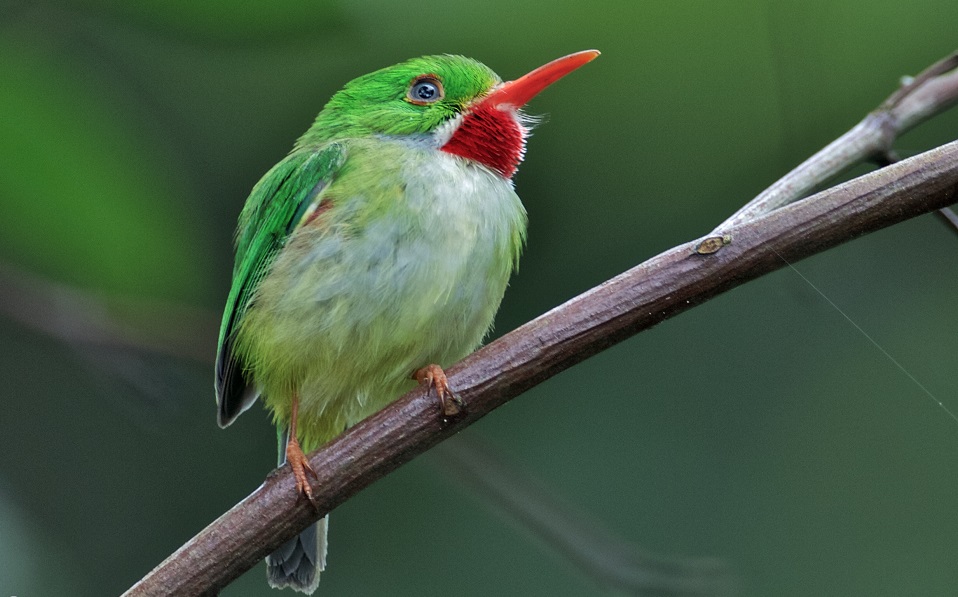 Toots and the Maytals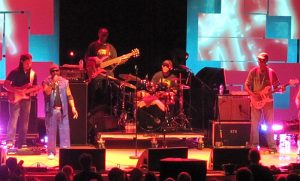 This group was formed in the early 1960s, and is one of the best known ska and rock steady vocal groups.
The frontman of the group, Frederick "Toots" Hibbert, was born in May Pen, Clarendon.
His soulful voice and style has been compared to that of Otis Redding.
Sadly, Hibbert was struck on the head by a vodka bottle while perfoming on stage in 2013, since then he has not performed.
Here is the link to one of your ABC compiler's favorite toons 54-46 Was My Number: http://youtu.be/yjg6flu3zuc
Trelawny Parish
I did not know this, but in 1770 Trelawny Parish was carved out from the parishes of Saint Ann and Saint James, it was named after the then Govenor of Jamaica, William Trelawny.
The parish was known for its sugar estates and as being home to the largest group of Maroons, who were slaves that had escaped from the Spanish settlers.
Here is some recent history, our Olympic Champion, Usain Bolt, was born in Trelawny.
Trevor Munroe
Trevor Munroe is a Jamaican political scientist, labur activist, and politician, who was born in Kingston in 1944.
After a first class honors degree in political science at the University of the West Indies, Mona, he won a Rhodes Scholarship to Oxford University in England. There he gained Dr of Philosophy for his study of the process of decolonization in Jamaica between the 1930s and 1960s, later published as The Politics of Constitutional Decolonization.
He founded a trade union 'The University and Allied Workers' Union' to represent janitors and service staff, then established the Workers' Liberation League (WLL), which became the Workers' Party of Jamaica, dissolve in 1992. In 1997 he was appointed an independent senator by Prime Minister Percival Patterson and in 2002, he was reappointed to the Senate as a member of the People's National Party.
As a scholar, he was promoted to Professor of Government and Politics at the UWI in 1998 and appointed founding Director of the Centre for Leadership and Governance in 2006.
Since 2011, Professor Trevor Munroe, who is one of the Caribbean's leading public scholars, has been Executive Director of Jamaica's National Integrity Action, a not for profit NGO dedicated to the building of integrity and the combat of corruption in Jamaica on a non-partisan basis.
Currently he is a member of the Advisory Group on Global Political Finance established by the International Foundation of Electoral Systems. He was a founding director of Citizens Action for Fair and Free Elections and is currently co-host of the morning programme, JAMAICA SPEAKS, on HOT 102 FM.
Source image and notes on Prof. Munroe
Tuna Fish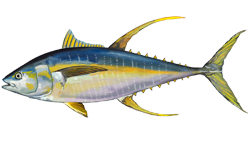 Several species of tuna swimming around Jamaica, among these you will find in the Bluefin and Yellowfin tuna.
The Bluefin tuna is a top open-water predator, which migrates across the Atlantic up to 8 000 km (5 000 miles) to gather in the spawning grounds of the Mediterranean and the Gulf of Mexico. (From the Jamaica Observer, 2010).
I've been told that from January to May you can catch Yellowfin Tuna, Striped Tuna (Katsuwonus pelamis), Blackfin Tuna and also in August to December.
The illustration is of the Yellowfin Tuna (Thunnus albacares), which are recorded as growing up to 2.4 m (94 in) in length and 200 kg (440 lb) in weight.
Of course, the one I caught and wanted to photograph and include in the Cool Runnings ABC got away while I was adjusting the zoom.
Tuna Plant
The Jamaica tuna plant is a variety of prickly pear cactus, two are recorded as growing in Jamaica.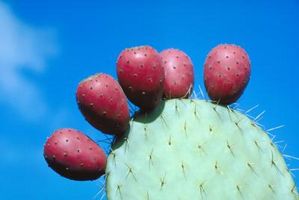 The photo shows Opuntia littoralis and the other is Opuntia ficus-indica. The commonly used name is Coastal prickly pear.
The fruit is claimed to help reduce or alleviate a number of symptoms such as diarrhea and lowering cholesterol.
The fruit is very sweet to eat, and may have originated in Mexico, where it was known to have been eaten by the Maya.
[separator top="40″]
Well, I'm feeling hungry now for a dinner cruise with Cool Runnings, so off I go to book myself and my partner onto one now!