Here we are at M already for the Cool Runnings Catamaran Cruises ABC. The museum list is for my New York friend. She tells me that it's my fault she had such a good time on the Cool Runnings Catamaran Wet and Wild cruise that she forgot her sun-block. 
Now she's suffering sunburn. So she asked me for out of the sun places to go before she books her next boat trip in Ocho Rios.
Mango
Mangoes (Mangifera indica) have grown in India for thousands of years. Seventeen out of 41 species 17 bear edible fruit. Lord Rodney (see image) found mangoes on a French ship in the 1700s and brought them to Jamaica.
In Jamaica, the season starts in May and runs through to July. You will find East Indian, Bombay, Julie, black mangoes and stringy. Some say the best are the Bombay and the Julie, which is a Jamaican cultivar.
Source image: Portrait of Admiral Lord George Rodney, 1st Baron Rodney, (1719-1792).
Painted by Jean-Laurent Mosnier in 1791, National Maritime Museum (United States) via Wiki Commons. [separator top="40″]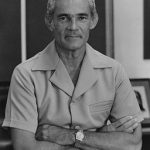 Michael Manley
The late Prime Minister Michael Manley was head of the People's National Party (Born 10 December 1924 – Died 6 March 1997). He was the fourth prime minster of Jam and served from 2 March 1972 to 1 November 1980 and 10 February 1989 to 30 March 1992.
Source image: Photo taken in November 1970s Wiki Commons [separator top="40″]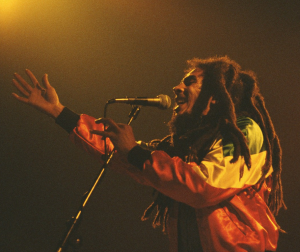 Marley
Robert Nesta 'Bob' Marley OM (6 February 1945 – 11 May 1981. He started out in 1963 with the Wailers and, as they say, the rest is history. He was one of the world's best-selling artists of all time, with sales of more than 75 million albums and singles. Still, wherever you are in the world if you say the word Jamaica, someone will say … Bob Marley. Bless! The official Bob Marley site is here: http://www.bobmarley.com/.
[separator top="40″]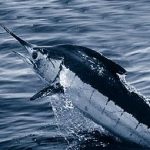 Marlin
I read that Atlantic blue marlin, Makaira nigricans can be 5 m (16.4 ft) long and weigh up to 818 kg (1 803 lb) and the black marlin, Istiompax indica can grow longer than 5 m (16.4 ft) and can weigh up to 670 kg (1 480 lb). I prefer my marlin smoked. Source image: Photo by Gardieff S. (2003). Atlantic Blue Marlin. Florida Museum of Natural History.
[separator top="60″]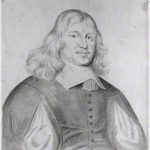 Martha Brae River
The Martha Brae River is located about six miles (km) outside Falmouth. Close to the river is the town of Martha Brae, and nearby is Gun Hill, is where judge John Bradshaw's (15 July 1602 – 31 October 1659) son, James Bradshaw, re-buried him to prevent Charles II of England desecrating his remains.
John Bradshaw was President of the High Court of Justice in 1649 during the trial of King Charles I of England. The King was beheaded as a result. Bradshaw was also the first Lord President of the Council of State of the English Commonwealth. A cannon marks the grave, with an inscription, "Rebellion to tyrants is obedience to God," which is associated with John Bradshaw. His son bought the land where the cannon was left, lending some credence to this story. Yes, you can also go rafting on the Martha Brae River. [separator top="40″]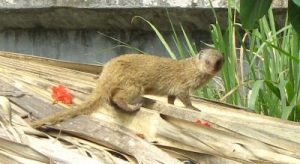 Mongoose (Herpestes griseus)
In 1872 W.B. Espeut imported four male mongoose and five females, one pregnant into Jamaica to contain the rats in the cane field. Twenty years later, Mr Espeut wrote that apart from the rats, "snakes, lizards, crabs, toads and the grubs of many beetles and caterpillars have been destroyed." A mongoose, I am told, will eat just about anything that can fit in its mouth, including fruit and vegetables. Source image from the blog, which is worth a click http://bajaningenios.blogspot.it/.[separator top="40"]
Morant Bay
Here is a fine oil painting of by Judy Ann MacMillan of Morant Bay, in the parish of St Thomas.
Morant Bay is famous for the Morant Bay Rebellion, which began on 11 October 1865, led by Paul Bogle a Baptist preacher with 300 men and women who were protesting economic hardship.
There is a lot more about the rebellion here.
Source image: With the courtesy of Macmillan Artist Retreat
[separator top="40″]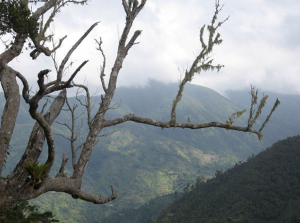 Mountains in Jamaica
Blue Mountain Peak 2 256 m (7,402 ft) is one of the highest peaks in the Caribbean, and where Blue Mountain coffee comes from.
The longest range in Jamaica is the Blue Mountains, which spreads across Portland, St Thomas, St Mary and St Andrew.
The John Crow Mountains name refers to that for the Turkey Vulture in Jamaica. The highest point in the range is a little over 3 750 feet (1 140 m).
The Mocho Mountains are in south-central Jamaica and the Juan de Bolas Mountain in St Catherine is named after the first Chief of the Jamaican Maroons.
The photo is of the Blue Mountains from the Hollywell National Park taken on the Oatley Mountain trail inside the park.
Source image: Photo by Wolmadrian via Wiki Commons.
Museums in Jamaica
Now for my New York friend with the sunburned nose. She can visit:
The Bob Marley Museum, on the site of his home, which Marley purchased in 1975. The tour is guided, and lasts just over one hour.
Firefly Estate, in Oracabessa, which was Sir Noël Coward's vacation home and where he died (16 December 1899 to 26 March 1973). He was an English playwright, composer, director, actor and singer known for his wit.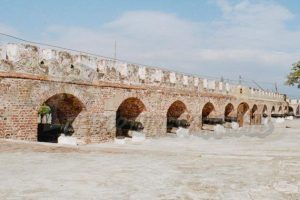 Fort Charles Museum is housed in the building that served as headquarters for the British Royal Navy during the 1700s. It was the first fort to be built in Port Royal in 1650 to 1660. Admission price allows access to the museum and the Fort.
Fort George is in Port Antonio, Portland. The fort was built to hold 22 guns and several George III cannons; its walls are ten feet thick.
Fort Haldane was built in 1759 and is near Port Maria in the parish of St Mary. It was named after General George Haldane, then Governor of Jamaica. The Fort is located next to Firefly Estate, the original home of Sir Henry Morgan, and later, Sir Noël Coward.
Jamaica Music Museum is in Kingston and showcases archival material from rare musical recordings and oral histories of Jamaican music greats and lesser known.
Hanover Museum in Lucea, sits on the site of a prison dating back to 1776 and houses many historical artifacts related to the history of the parish of Hanover.
Liberty Hall: The Legacy of Marcus Garvey in Kingston, provides educational outreach programmes for children and adults.
Jamaican Military Museum and Library, is near Up Park Camp in Kingston, the artifacts on display date back to Jamaica's first inhabitants the Tainoes and include uniforms, medals, silverwares, weaponry, military vehicles and equipment.
Museum of St James, now called National Museum West, is located at the Montego Bay Civic Centre, Sam Sharp Square. The museum traces the history of St James parish, from the Arawak era to the present day.
National Gallery of Jamaica, Kingston, established in 1974 is the oldest and largest art gallery in the English-speaking Caribbean. The Gallery's collection includes early, modern and contemporary art from Jamaica and the Caribbean.
Natural History Museum of Jamaica is in Kingston. The Museum maintains the national collections of flora and fauna. When your ABC compiler checked in July 2014 the museum was closed for renovation.
Peoples' Museum of Craft and Technology, in Kingston, was originally created in 1961 and showcases the creative industry of emancipated Jamaicans as they fashioned a new life for themselves.
Taino Museum of the First Jamaicans is closed at the time of writing in July 2014.
Education Museum, at Mico University College is the first museum in Jamaica to be dedicated to education. Established in March 2004, with the theme, "Winds of Change: the Evolution of Education in Jamaica," the museum features the growth of education from the pre-emancipation era to the present.
Music
Jamaica is known around the world for its music and musicians. You may have heard of mento, ska, rocksteady, reggae, dub music, dancehall, ska jazz and reggae fusion.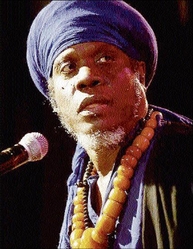 Mutabaruka
Is a Jamaican Rastafari dub poet. Formerly Allan Hope his name comes from the Rawandan language and means 'one who is always victorious'. He is known for his lively performances during which he uses stories and experiences to get readers to think about issues in ways that they would not normally think about them.
In February 2010, the National Centre for Youth Development (NCYD) and the Rotaract Club of Mandeville honored Muta for his over 30 years of outstanding work in the arts.
You can find Muta on YouTube to hear him perform and his website is here http://www.mutabaruka.com/.
Source image: Jamaica Gleaner