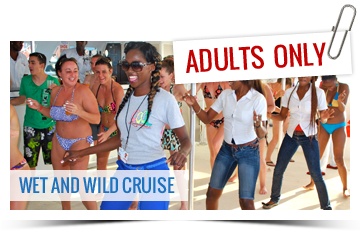 Here at Cool Runnings Catamarans, Jamaica we cater for all types of cruises. If you have a special party to plan, we will organize a custom tour with your specific needs in mind.
We love a good party in Jamaica and if you have specific requests please don not hesitate to contact our online representative (live chat), and if they are not online, simply leave a message and we will get in touch with you as soon as they are available.
We do ALL types of cruises…remember…what happens in Jamaica, stays in Jamaica – Adults only Cruise.
Call us: USA : 1-954-434-5125 / JAMAICA: 876-974-2446, email us (reservations@fivestarwatersports.com or info@coolrunningscatamarans.com) or speak with our online rep today 🙂