Just to start with a couple of Jamaica patois words, such as vex meaning that someone is upset or angry. Then there is the classic vershun, meaning a version of a song, usually just the instrumentals.
Vanilla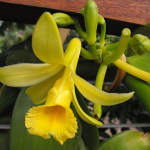 We are told that the vanilla species was first cultivated by the Totonac people on the East Coast of Mexico. There are three main species grown around the world, the one growing in the Caribbean, Central and South America is V. pompona. Vanilla is the second most expensive spice after saffron, because it generally needs to be hand pollinated.
I admit I never knew that vanilla is an orchid; however I did know that the flavoring is extracted from the pods.
Source image: Photo of flowering V. pompona from the website Most Beautiful Orchids http://mostbeautifulorchids.blogspot.com
Varicus bucca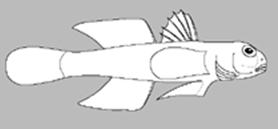 Here is a drawing of what this fish looks like. It is said to swim throughout the Greater Antilles of which Jamaica is a part. As a reminder the Greater Antilles are made up the islands of Cuba, the Cayman Islands, Hispaniola (containing the Dominican Republic and Haiti), Puerto Rico, and Jamaica. This fish grows to about 4.6 cm, so I think you will not be going fishing for it. We are assured that, despite its frightening appearance, it is harmless.
Verbena
Verbesina rupestris is a plant that is found only in Jamaica growing in Saint Andrew and Saint Thomas Parishes. It is described as being a shrub or small tree and is threatened because it is loosing its habitat. It is so rare that the only photos I found were of dried, flattened plant on Arkiv here http://www.arkive.org/verbesina/verbesina-rupestris/image-G105543.html.
Vere Johns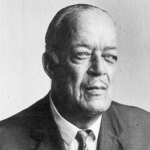 Many Jamaicans may have forgotten, or never heard of, Vere Johns, but he was a very important individual because he helped launch many musicians.
Vere Johns was born in Mandeville on 28 November 1893 and died 10 September 1966. He was a Jamaican journalist, impresario, radio personality and actor who helped launch the careers of many Jamaican musicians on his popular talent contests "Vere John's Opportunity Knocks Talent Show" on RJR Radio, among them were Desmond Dekker, The Wailers and Milli Small.
There are two good articles about him from the Gleaner and the Jamaica Observer.
Veronica Campbell-Brown
Ms Cambell-Brown was born in Trelawny, Jamaica on the 15 May 1982. She is a Jamaican track and field athlete who specializes in 100 and 200 m. She is the second woman in history to win two consecutive Olympic events. In 2009 she was appointed UNESCO Goodwill Ambassador, and stated that she would use the role to promote gender equity in sport.
Vervain hummingbird
In Latin, Mellisuga minima. This bird is found in the Dominican Republic, Haiti and Jamaica. At only 6 cm or 2.4 inches, it is said to be the second smallest bird after the Bee hummingbird. Perhaps it has the smallest egg in the world measuring only 1 cm or 0.39 inches. You can find it in subtropical or tropical, moist lowland forests.
Jamaican vireo
Blue Mountain vireo
Latin name: Vireo osburni, is another bird that is endemic to Jamaica. The Blue Mountain vireo is threatened as a result of loss of habitat. The bird lives in subtropical or tropical moist lowland forests, subtropical or tropical moist montane forests, plantations, and heavily degraded former forest.
This brings us to the end of V.
Of course Vacation begins with V, and for some of us we are beginning to feel the sharp bite of winter and perhaps we are beginning to think of travelling to a warmer climate, such as found in Ocho Rios, Jamaica, where you will be able to book a boat cruise with Cool Runnings Catamaran Cruises.
Think about it, warm sun, the soft slap, slapping of the waves against the side of the boat, a cool drink in your hand. Perhaps you are thinking about a swim in the waters of the Caribbean Sea. Or, just a romantic dinner cruise, where you can watch the sun go down, or a fun cruise to enjoy with friends or family.