Just to start, here are a few S words from the Jamaica Patois dictionary: a smalls, is a tip or a gift of money, and a star is a friend and when nothing, but no ting is going right you say salt! But here we continue with the Cool Runnings ABC.
Saint Mary's Peace Farm
Near Oracabessa, about 15 minutes from Ocho Rios, there is a 22-acre eco-tourism park and working farm, which was started by Professor Anne C. Bailey. It is for people who love nature, the outdoors and for those who believe in protecting the environment. There are five nature trails and three streams and fruit in season is offered for sale, oh yes and you can go horseback riding.
Seven-mile Beach, Negril
Here I just add a photo of the Seven Mile Beach in Negril, well, as far as I am concerned I think Ocho Rios is just as fine, and you are just steps from going on a boat cruise with Cool Runnings Catamaran Cruises, so while you are in Ochie book a boat cruise.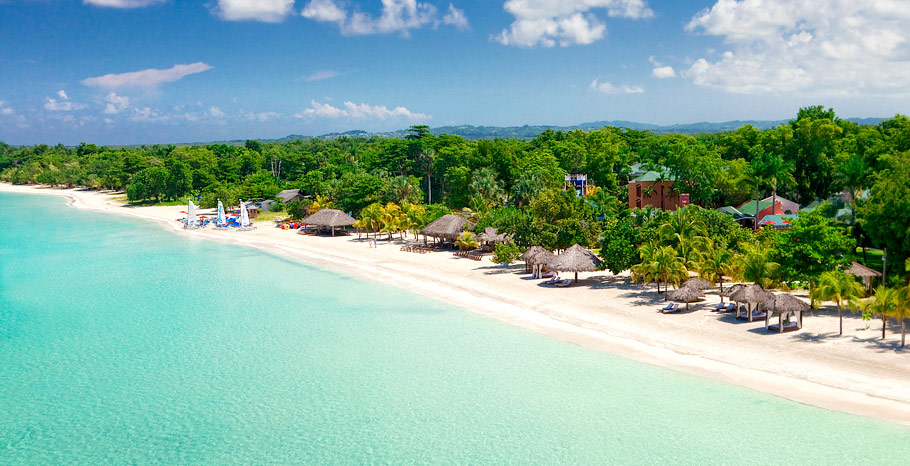 Seville Oranges
These are the very sour oranges that you see even growing wild. Some people find they are much more sour than a lemon, but it is these that make that really good Seville Orange Marmalade. Must say that I was amazed to find that the Seville Orange comes from China, and is a cross between a Chinese grapefruit and mandarin, the fruit then traveled along the trade routes to Africa and the Mediterranean in the tenth century. Get this … for five hundred years the Seville Orange was the only citrus available in Europe, the fruit is now naturalized in the Caribbean and the Americas. If you want to make your own marmalade, here is a link to two recipes, one is for Jamaican Seville Orange marmalade and the other is for a refreshing sour drink: http://cardisa.hubpages.com/hub/Seville-Oranges-Marmalade-and-Other-Recipes.
Sphyraena barracuda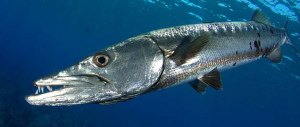 Here is a fantastic photo of a barracuda hovering in a strong current. When mature these fish can reach 60–100 cm (24–39 in) in length and weigh 2.5–9.0 kg (5.5–19.8 lb). Barracudas eat fish; they may also be attracted to shiny objects worn by humans, mistaking the glitter for a tasty lunch. So, the advice from the experts is to take off all sparkly, shiny objects when going snorkeling or diving. This is to avoid being followed by a barracuda, they have sharp teeth and a bite can be painful.
[separator top="40″]
Soursop
Annona muricata is native to Mexico, Cuba, Central America, the Caribbean and northern South America and, although called sour, it is in fact sweet. The fruit has a white flesh that is used to flavor ice-cream. Some say that soursop ice cream tastes heavenly. Here is the description of the flavor copied word for word from Wikipedia, "The flavor has been described as a combination of strawberry and pineapple, with sour citrus flavor notes contrasting with an underlying creamy flavor reminiscent of coconut or banana". I would say that is a good description.
[separator top="40″]
Spanish Town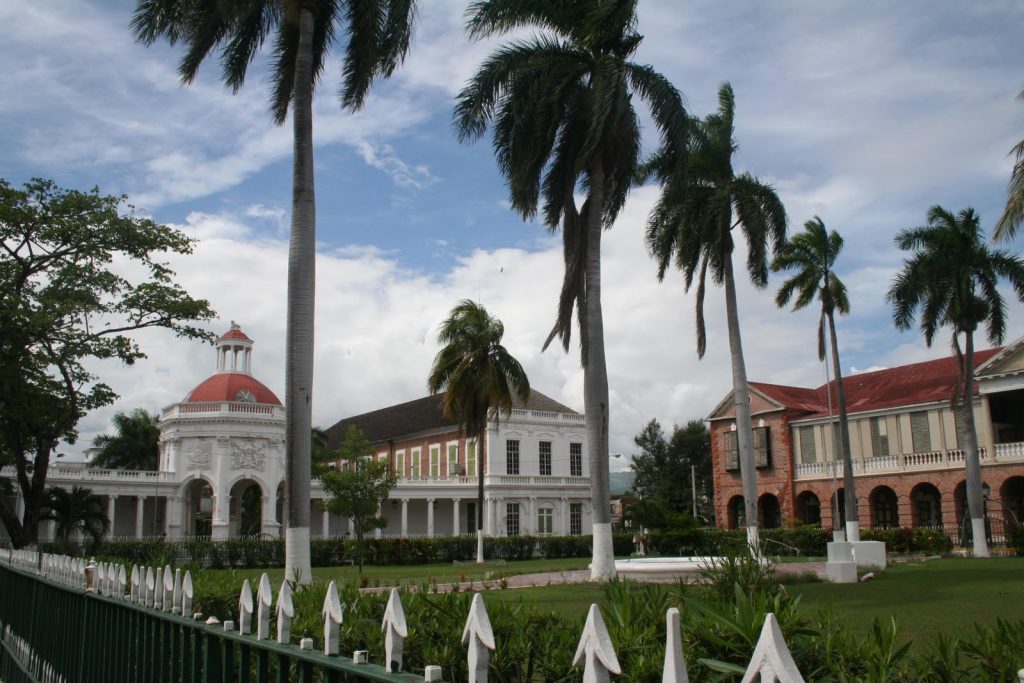 You will find Spanish Town in the Parish of Saint Catherine. It was the Spanish and the English capital of Jamaica from the sixteenth to the nineteenth century and was founded by the Spanish governor Francisco de Garay in 1534. You will find one of the oldest Anglican churches outside England, other national monuments and the Jamaica archives. Two famous people from Spanish Town are Grace Jones the singer, who was born there, and Asafa Powell the sprinter.
Star Apple
This fruit has a glossy purple skin; inside the pulp is white and tinged with purple. The Latin name is Chrysophyllum cainito. As you can see from the photo, cut horizontally you find a star shape! Cut up with other fruits it helps make your fruit salad glorious.
Sweet sop
Its Latin name is Annona squamosa, it is also known as Custard Apple. The fruit is native to the tropical Americas and the Caribbean. The pulp is creamy white and clings to a long seed, and the fruit can really taste like custard!