Well, so now we have come to P, we can start with one of my favorite breakfast, lunch and dinner and any time in-between fruits, the Papaya or Paw Paw as we know it in Jamaica.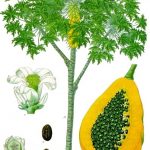 Papaya or Paw Paw (Latin name Carica Papaya)
The Paw Paw is a popular, sweet fruit. You can eat it when it is ripe, or make a juice from the pulp. The green papaya contains an enzyme called papain, which can be used to tenderize meat. Papaya is also known to remedy digestive disorders.
[separator top="40″]
Parakeet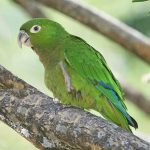 Latin name is Aratinga nana nana, is also known as the Olive-throated Parakeet. The parakeets found in Jamaica are endemic to the island and are considered by some to be a separate species from those found elsewhere.
These birds are also known as dwarf Conures.  Parakeets are fairly small and, outside the breeding season, can be found screeching and flapping their way through the trees in medium-sized flocks.
[separator top="40″]
Patois
What you hear people speaking in Jamaica is called Patois, or as the linguists call it Jamaican Creole. Patois is based on English patois that has been influenced by West African. Some of the words beginning with P are pickney for child and poppyshow for laughable or ridiculous. A favorite is the word for firefly, which is peeniwally. I know that some folks have been known to put the peeniwallys in a jar to provide a light when having to adjust the engine of a broken down car on country roads. Fe TRUE!
Patra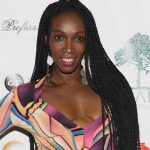 Is a dancehall singer, who takes time off from her career to be with family and to study history and political science. In her own words from an interview with Tyler K. McDermott on Vibe in 2012.
McDermott: What do you want your fans to gain from your return to music?
Patra: They will gain the ability to love themselves and to just relax. That's basically it. Not only that, but to also to work hard if you're a woman to achieve your goals. You don't need to let the advice of one to see what your true values are. It's the simple things that you've done as an individual that make you who you are.
You can hear her on YouTube singing Sweet reggae music.
Peak Frog (Latin name Eleutherodactylus alticola)
This species lives near the Blue Mountain peak and the range is said to expand throughout the Blue and John Crow Mountains National Park.
This is what we find on the Caribherp website, for more go here .
[separator top="20″]
Perry Henzell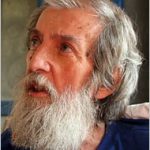 Born 7 March 1936 in Annotto Bay, St Mary's and died 30 November 2006 in Treasure Beach, St Elizabeth.
Perry Henzell is most probably remembered for being the director of the first Jamaican feature film (1972), 'The Harder They Come," and "No Place Like Home," which was screened at the Thirty-first Toronto International Film Festival in 2006. He also wrote the book Power Game.
Source image: Photo by K.S. Kennedy, 2006.
Portlandia albiflora
This a species of plant in the Rubiaceae family, which is endemic to Jamaica. To see a photo go here because it is heavily copyrighted and I could not show it here!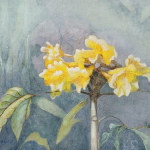 Pouie
These are flowering trees, which you can find in pink and yellow, as one blogger noted about the time when you need to be studying for your exams. Here is a painting of a few blooms of yellow pouie by Graham Davis a Jamaican painter.
[separator top="40″]
Port Antonio, Portland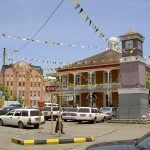 Port Antonio has the island's third largest port for shipping bananas and coconuts. It is the capital of the Parish of Portland. Near here is the famous Blue Lagoon, and Navy Island, which was owned at one time by the actor Errol Flynn.
The poet, Robert Burns, (Bobbie Burns) was engaged to become a 'book keeper' at the Springbank property near Port Antonio.
A couple of films were shot in and around Port Antonio Clara's Heart with Whoopi Goldberg and the Lord of the Flies.
Port Royal
Was once the capital of Jamaica and home to privateers who were hired by the British to harass Spain's ships in the Caribbean. The town was founded in 1518, and was known for its rowdiness, until the town was destroyed by an earthquake in 1692. Once defended by the pirates who lived there, this all changed when one of the notorious privateers, by the name of Henry Morgan, became lieutenant governor in Jamaica in 1675.
Note! On Wikipedia we find that although historical fiction, James Michener's The Caribbean details the history, atmosphere and geography of Port Royal accurately.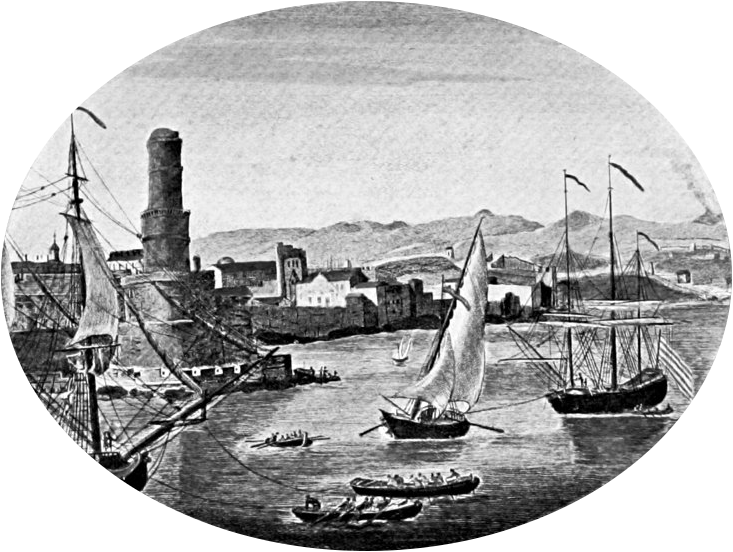 Source image: Port Royal before 1692. The illustration is from The Project Gutenberg EBook of On the Spanish Main, by John Masefield via Wiki Commons.
Now, please remember to book your boat cruise in Ocho Rios, Jamaica, with our crew from Cool Runnings Catamaran Cruises.