Here we are again, and now we can say something about Ocho Rios because it begins with O!
You know that Ochie is where you will find Cool Runnings Catamaran Cruises, and remember the boats sail from Mahogany Beach to Dunn's River Falls, or into the sunset for a special dinner, or book a cruise for a special occasion, like your own birthday party. Our experienced crew will make sure you have a really good time.
Ocho Rios

Ocho Rios used to be a small fishing village. Wrapped around a small bay, it is now filled with hotels, shops and in the surrounding area you will find many places to visit, such as Dunn's River Falls, and who is the best to take you there? Cool Runnings of course.
The name Ocho Rios is an English corruption of the Spanish for waterfalls, Las Chorreras, named so because of the nearby Dunns' River Falls.
Oku Onuora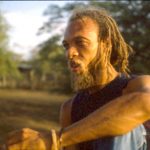 This is the man who actually initiated the concept of dub poetry in Jamaica. Now how many of us knew that? He busappon di (burst upon the) the scene in 1978 with Reflections in Red. Here he is performing live http://youtu.be/m9_dT43kQWM.
[separator top="40″]
Oonu!
This means YOU in Jamaican Patois! Such as oonu take a boat cruise in Ocho Rios with Cool Runnings Catamaran Cruises!
Opal Palmer Adisa
Is a writer of both poetry and prose, photographer, professor,educator and cultural activist.
Here is This is the link to her website: http://www.opalpalmeradisa.com/ and you will find her on YouTube reading her poetry and performing. On Huffington Post (http://www.huffingtonpost.com/op) you will find that:
"Adisa has lectured and read her work throughout the United States, the Caribbean, South Africa, Ghana. She is the author of 14 titles, poetry, prose and two novels such as 4-Headed Woman, poetry collection; Painting Away Regrets; Until Judgment Comes, short stories."
Orangequit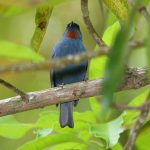 Latin name Euneornis campestris is endemic to Jamaica. It is a tanager, meaning it is a songbird.
The orangequit feeds on fruits and nectar and can be found in evergreen to disturbed forest habitats.
This is a photo of the male, the female is brown with a grey-blue head. The color of the male should be more like cobalt blue with a flame red patch on the front of its neck.
Source image: Photo by Dominic Sherony via Wiki Commons
Orchids of Jamaica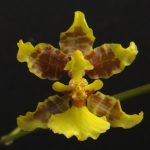 Among them is Oncidium altissimum, which was listed in a book by a man named Nicolaus Joseph von Jacquin in 1760. The book was: Enumeratio Systematica Plantarum, quas in insulis Caribaeis 30. Just thought you might need to know this!
Here is a photo of one of the yellow and brown blooms belonging to Oncidium altissimum.
There is also the Jamaica Orchid Society, which was founded in 1931 and became affiliated with the American Orchid Society in 1952.
I have read that in Jamaica there are 60 genera and over 220 species of orchids in Jamaica and about 66 of these species are endemic. Orchids in Jamaica are usually found on trees (epiphytes) or growing on rocks. Orchids come in a wide variety of sometimes bright colors and can be perfumed.
Osteopilus crucibles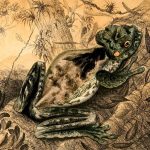 Or, the Jamaican snoring frog, I did find a photo, but preferred to use this amazingly strange illustration that you can see here. This species of frog is endemic to Jamaica, but it is under threat as a result of habitat loss.
I must admit the photos I found of this frog show a more frog-like beastie with large yellow eyes.
You can hear the Jamaican snoring frog on YouTube here http://youtu.be/NqFc0985KCA
Source image: From a Naturalist's Sojourn in Jamaica author Philip Henry Gosse (1810-1888) via Wiki Commons
Ortanique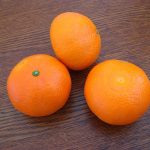 This is a natural tangor that was discovered in Jamaica. Its name is from OR for orange TAN for tangerine and IQUE for unique. It is ripe from February through to April.
It was discovered in Jamaica in the 1900s. If you cross a tangerine with a sweet orange you can create an ortanique, however, depending on where they are grown, the appearance and flavor changes.
Those in the tropics are sweeter and juicier and without seeds, those in the Mediterranean have a thicker skin and contain seeds. The ortanique you find in Jamaica may have a yellow green skin and not the bright orange found in this photo. But inside will be bright orange and sweet as nice.
Source image: Photo by ERMI via Wiki Commons
Osborn's key mouse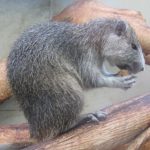 Latin name: Clidomys osborni
Osborn's key mouse was a large Jamaican giant hutia, the remains of which have been found in caves in Jamaica.
Actually Osborn's key mouse, which was endemic to Jamaica, became extinct in the Pleistocene, which was a good 2 588 000 to 11 700 years ago; well before my time and possibly yours.
This is a photo of a still existing hutia from Cuba, so that you can have some idea of what a hutia looks like. In Cuba I have read that they are hunted for food. Source image: Photo by Jensflorian via Wiki Commons
Otaheite apple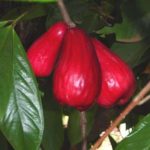 We already put this under Ethiopian Apple, but I have it here again to celebrate its glorious color. Source of photo: http://wiwords.com/word/otaheite-apple
You can make a juice from the Otaheite apple in a blender, mixing it with ginger root, water and honey. Don't peel it because much of what is good about the Otaheite apple is in the skin. Some of us use the fruit to make Otaheite apple pie or jam.