We have now arrived at L, but before we get to the alphabet …Remember, if you are looking for boat cruises in Ocho Rios, or Catamaran cruises in Jamaica, you will be in fine company and good hands when you sail away with Cool Runnings Catamaran Cruises. 
Laughing Tree Frog (Osteopilus ocellatus) 
This frog also known as the Savanna-la-Mar tree frog, is endemic to Jamaica. This frog has a pleasant call, which you can here:
Unfortunately I was unable to get a close up shot of it and the YouTube video does not do it justice, but at least you can enjoy the sound it makes. It is this frog in unison with others that make Jamaican nights so special, a true lullaby.[separator top="40″]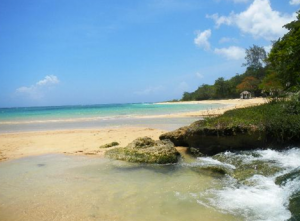 Laughing Waters
These waterfalls are just outside Ocho Rios, the falls end on a small beach. Where the fresh water mixes with the warmer sea, making for a pleasant refreshing difference in temperature.
Your feet sink into the soft sand on the beach. I understand that if you are thinking of getting married you can think of using this location. But, if you are looking to get married on a boat cruise why not go with Cool Runnings Catamaran Cruises?
Lizard Cuckoo
This bird (Saurothera vetula) is endemic to Jamaica. I find it quite pretty with its peachy rusty breast. Photo by Dominic Sherony via Wiki Commons.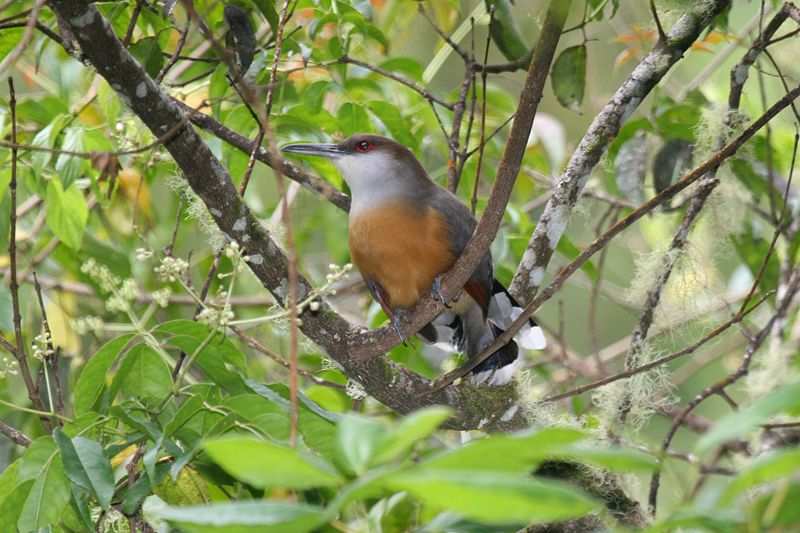 [separator top="60″]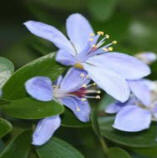 Lignum Vitae (Guaiacum spp.)
Translated this means "Wood of Life", it is also called Ironwood because it is so hard. The tree was found by Christopher Columbus and it is one of the national symbols of Jamaica. Attractive with blue flowers and a yellow fruit, it is one of the most useful trees. Source image: National Library of Jamaica.
[separator top="60″]
To Lime (the verb) 
In Jamaica, if someone invites you to lime, it usually means to hang out with a group of buddies. Some have described it as the fine art of doing nothing. You could say you were going to lime on a Cool Runnings Catamaran Cruise.[separator top="40″]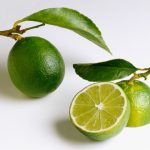 Lime (the fruit) 
Now, I always thought that limes were a Jamaican fruit. I see that they were first grown commercially in Southern Iraq.
I know that the British navy used them on ship during the nineteenth century to prevent scurvy as the fruit is an excellent source of Vitamin C.
One of my favorite drinks is cool, not iced, water with the juice of half a lime squeezed into it. Most refreshing and a great thirst quencher.[separator top="40″]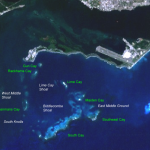 Lime Cay
This is the main islet off Port Royal. A destination for those who like to swim and sunbathe. I have just read that it is also home to many sharks, so maybe more for the sunbathing than the swimming. It measures just (from Wikipedia) 380 meters northwest-southeast, and is up to 80 meters wide, measuring 2 ha in area.[separator top="60″]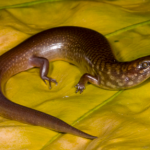 Limestone Forest Galliwasp (Celestus barbouri)
Frankly when people talk about a galliwasp I expect to see something with wings. So here we are with a lizard shaped creature that does not fly at all.
On the Reptile Database I find that this critter was named after Thomas Barbour (1884-1946), who was Associate Curator of Reptiles and Amphibians (1923), and, later, Director (1927) of the Museum of Comparative Zoology at Harvard.[separator top="40″]
Linton Kwesi Johnson
Is a dub poet, who was born in Jamaica in 1952, and moved to London with his mother in 1962. Johnson recites his poetry in Jamaican patois over dub-reggae, which is that heavy beating music that lifts those giant speakers off the floor.
 In 2002 he became the second living poet, and the only black poet, to be published in the Penguin Modern Classics series. His middle name, "Kwesi", is a Ghanaian name that is given to boys who – like Johnson – are born on a Sunday.
 In 2012, he was awarded the Golden PEN Award by English PEN for "a Lifetime's Distinguished Service to Literature".(All found on Wikipedia).
You can hear the poet himself reciting his verses on the Poetry Archive here: http://www.poetryarchive.org/poem/if-i-woz-tap-natch-poet. You can find out more about LKJ on his official website here: http://www.lintonkwesijohnson.com/linton-kwesi-johnson/.
Louise Bennett-Coverly, or Miss Lou
Miss Lou deserves a special place here because she was instrumental in having Jamaican patois achieve literary recognition. She was born in 7 September 1919 and died in 26 July 2006. She attended the Royal Academy of Dramatic Art in London in 1940 and when she returned to Jamaica she taught drama to youth and adult groups. It was for this work in Jamaican literature and theater that in 1960 she was made a Member of the Most Excellent Order of the British Empire.

Other awards included the Norman Manley Award for Excellence (in the field of Arts), the Order of Jamaica (1974) the Institute of Jamaica's Musgrave Silver and Gold Medals for distinguished eminence in the field of Arts and Culture, and in 1983 the Honorary Degree of Doctor of Letters from the University of the West Indies.
She spent the last ten years of her life in Toronto, Canada, where she was honored for her achievements at the Harbourfront Centre, in Toronto, with a venue named after her as Miss Lou's Room.
If you want to know more go here http://louisebennett.com/. Where you will find, "She was described as Jamaica's leading comedienne, as the 'only poet who has really hit the truth about her society through its own language".
Was crowned Miss World in 1993 and is now , Minister of Youth & Culture. She is the member of parliament for Saint Ann South East.
She worked with UNICEF promoting the candlelight vigils to launch the International Convention on the Rights of the Child. She was also one of the youngest Goodwill Ambassadors to be appointed by the United Nations Development Programme in Jamaica.