Cool Runnings – Great Sailing Stories

Here Cool Runnings Fun Cruises would like to draw your attention to a story found on National Public Radio in the USA. A father and daughter team are sailing around the globe using a very ancient system of navigation. We strongly advise that you don't try this from your home dock unless you have had special training.
They are sailing on a craft based on an ancient Polynesian design, which is named Hokule'a. They are already two years into their epic journey.
Why did Cool Runnings Catamaran Cruises become interested in this? Well, they are sailing on a double-hulled voyaging canoe, something like a catamaran.
Image: of double hulled voyaging canoe Hōkūle'a ("Star of Gladness") which is helping launch a revival of Hawaiian culture and wayfinding and is the iconic symbol of the Worldwide Voyage http://www.hokulea.com/press-room/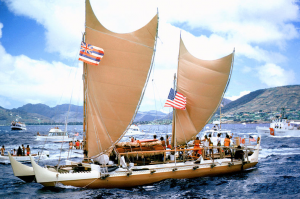 Kalepa Baybayan, who is the father, learned to navigate using the sun moon and stars, he has taught his daughter. Entering his name on the Web we came upon the website for the Polynesian Voyaging Society.
Your Cool Runnings Fun Cruises writer saw that there are actually two canoes named Hōkūle'a and Hikianalia, and the crews are sailing them around the world to increase awareness of creating a more sustainable world. There is a short video that tells you a lot about this movement (here http://www.hokulea.com/worldwide-voyage/).
Here is another photo via Wikipedia of Hokule'a arrival in Honolulu from Tahiti in 1976 taken by Phil Uhl, where you can clearly see the double hulls https://commons.wikimedia.org/wiki/File:Hokule%27a.jpg.
They sail using the ancient art of Wayfinding and the Star Compass.
Cool Runnings Jamaica – Wayfinding
Cool Runnings Fun Cruises finds that a revival of the art and science of Wayfinding and use of the Star Compass is being led by Nainoa Thompson. The Star Compass, as explained on the web site uses the Hawaiian names for the astrological houses and the stars and, once you have identified and memorized where they rise and set you can find your direction. But wait, there is a lot more to it than that.
Maybe the best part is that you can join The Mālama Honua Movement, which translated from Hawaiian into English means "to care for our island Earth," but can also mean and here we quote directly from the website, "to take care of and protect everything that makes up our world: land, oceans, living beings, our cultures, and our communities".
To find out more go here (http://www.hokulea.com/).
So, now back to Jamaica and our very own Cool Runnings Catamaran Cruises, but wouldn't it be nice if they came to visit us here?