You know how it is, you get close to Christmas and you start wondering about friends or family members you have not seen for a while. For this reason your ABC compiler got in touch with a friend who works with UNICEF (http://www.unicef.org/) and asked about her memories of Christmas in Jamaica.
This is what she wrote; "I haven't celebrated Christmas in Jamaica for thirty years. So what I have are long-ago memories."
She continues that she remembers, "the sense of excitement in the air; the cooler evenings; the smell of baking cake and sorrel in the houses around. Music and balloons and firecrackers, and everyone saying to each other: 'Compliments of the Season, Mr or Mrs So-and-So'."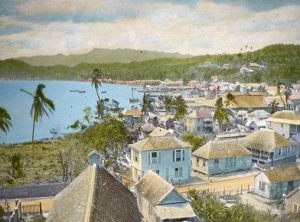 "And neighbors visiting each other, dropping by at whatever time they felt like, and they were always welcome. And my grandmother's warm eggnog, with nutmeg and rum".
She also wrote that, "As a pre-teen in Lucea," (see image of Lucea) she remembered "going caroling, which was really an excuse to get out of the house before day, which you weren't allowed to do any other time of year, and roam around the town."
So, in memory of Christmases past and those yet to come the team at Cool Runnings Catamaran Cruises would like to wish all past and future happy customers a really wonderful time during Christmas or any other holiday that you may be celebrating at this time of year.

Then, in memory of my friend's grandmother's eggnog recipe you might like to try this one from Jamaica Epicurean Escape http://jamaicaepicureanescape.com/eggnog-recipe/.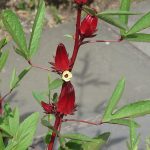 Before the traditional Jamaican meal friends and family will gather for a drink of sorrel, which is made from the Hibiscus sabdariffa plant (for the recipe click here http://www.cool-kids-jamaica.com/Sorrel-drink.html), or rum punch.
[separator top="10″]
Here is a friend's recipe for rum punch.
The proportions should be like a poem: one measure of sour is lime juice, two of sweet is brown sugar, three of strong is your favorite rum and the four of weak is the fruit juice, usually orange or pineapple or both. Then, add to this mix a few drops of Angostura bitters. There are some who will also add a touch of hot pepper sauce.
You may find many gathered for a Jamaican Christmas. In fact there may be so many stuffed into the house that the meal may need to be served buffet style with everyone sitting on anything they can find with a plate of food balanced on their knees.
This is because family may include not only the children, the cousins, the nieces, the nephews, the grandparents, aunts, uncles, great aunts and uncles, family also includes all those people you just happen to call aunt or uncle or gran'ma or gran'pa, and of course don't forget the mother and father of the house.
At Christmas lunch or dinner you may find any of these fried plantain, breadfruit, curry goat, stewed oxtail, rice and peas, baked ham with glazed pineapple, roast meat, perhaps jerked turkey and don't forget the water.
Source image: Don't forget the water! Painting by Jamaican artist Rosemary Allison
What comes later is the Christmas cake, which is usually a heavy, dark cake filled with fruit that has been soaked in rum for days or months before use.
You can find a recipe here (http://eatjamaican.com/recipes/black-cake-recipe.html)
You may also find Jamaican trifle, and Matrimony, which is mixed fruit salad.
Be ready for all the people who will drop by over the holidays for a glass of sorrel, or eggnog and a piece of Christmas cake.
Outside, under the warming sun, there are touring Jon Canoe who arrive with their masks and their dances, a tradition brought all the way from Africa.
And, apart from the Jon Canoe, there are the glowing red poinsettias growing up against the walls of the old water tank, yes, the one with the blue-green lichen.
You may enjoy listening to this reading of The Night Before Christmas in Jamaican Patois http://youtu.be/zoWkNVctUtc.
And, before it gets much later …
Wishing you all a Happy Christmas in Jamaica and a Merry Holiday Season.