Here is a quick Cool Runnings Catamaran Cruises history of Ochie, or Ocho Rios where you can book a boat trip from Mahogany Bay for a sunset cruise or snorkeling, and a visit to Dunns River Falls.
The first inhabitants of the area were the Taino, or the Arawak, who were said to have arrived in Jamaica in 1000 BCE and who were the people who first called the land they lived in Xamayca, which means land of wood and water.
Ochi Boat Trips 
Many say that Christopher Columbus first landed in Jamaica in 1494 in the bay that is now part of Ocho Rios. He really could have landed in many places as he was looking for water, but there is now a park called Columbus Park that you can visit.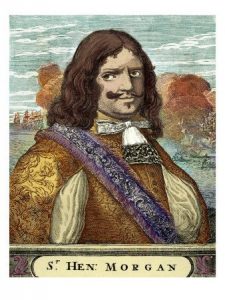 Columbus, of course, claimed the island for Spain and it was Spain that brought the first African slaves to Jamaica in 1517. Slavery was abolished in Jamaica in 1807 but not until 1863 in the United States.The British won Jamaica from the Spanish in 1655, and a battle was fought with the Spanish at Las Chorreros, Dunns River Falls in 1657 and 1658; who hoped to win the island back for Spain.
The name Ocho Rios as you must know by now, is the English misunderstanding of how to say the Spanish word for stream, running water or waterfalls.It is said that Ocho Rios was popular with pirates, who were also known as merchant seamen, privateers or buccaneers, depending on who was referring to them and just maybe you would have been able to book a boat trip from them.
The picture, by Alexandre Exquemelin (d. 1707) is of Sir Henry Morgan (1635 –1688), who was a Welsh privateer; otherwise a pirate, who was appointed Lt-Governor of Jamaica from 1664 to 1665.
Cool Runnings Cruises in Ocho Rios
In the 1940s Reynolds Jamaica Mines built the deep-sea port to ship the bauxite ore mined in the interior of Saint Ann parish.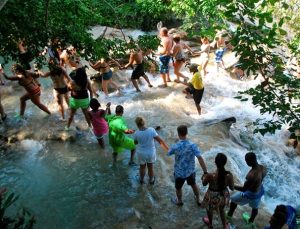 Still, in the 1960s Ocho Rios was a quiet fishing village, except for the swinging buckets bringing bauxite from Lydford mines a little to the south to the shore for shipment.It was during the 1960s that the Saint Ann Development Council was formed, and so began the development of the area. The harbor was dredged; sand was piled to create Turtle Beach and today Ocho Rios, better known as Ochie, is attracting people from all over the world.
Visitors come to enjoy our special Jamaican hospitality, our beaches, rivers, landscape and wonderful birds and flowers and, best of all, they come to book a boat trip to Dunns River Falls with our crew from Cool Runnings Catamaran Cruises.