Cool Runnings – Origin of Bathing Suits
While we are thinking about whether or not we are going to book that fun cruise shown on the Cool Runnings website, Cool Runnings Catamaran Cruises – Bathing Suits presents you a short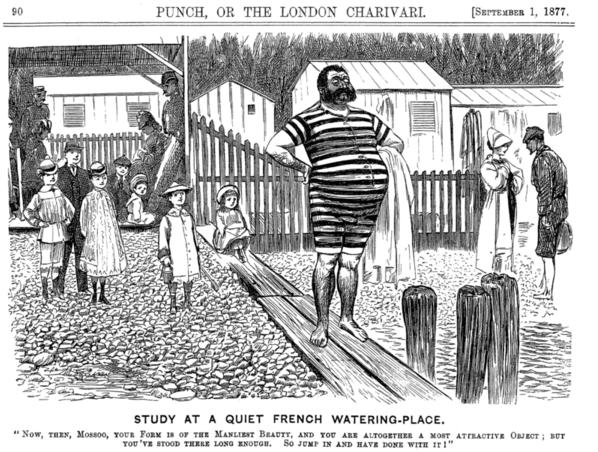 history of what we wear when we go swimming.
Of course the first bathing suit was what you wear when you stand under the shower, your birthday suit. This was the norm in ancient times around the world.
In the Middle Ages, however, in Europe it appears that no one was encouraged to swim or even to have much contact with water. Thus perfume was born, but that history is for another time.
As Jamaica was part of the British Commonwealth, it can be assumed that swimwear was the same in Jamaica as it was for Jolly Olde England, notwithstanding the differences in climate.
Here is a cartoon from magazine Punch of men's and children's swimwear in France in the 1800s.
Image: Wikimedia https://commons.wikimedia.org/wiki/File:Punch_-_Masculine_beauty_retouched1.png
Cool Runnings Catamarans – Swimwear from the 1700's
For example it was not unknown for women to go into the water in bathing dress, in what to us would appear to be a fully covering long dress.
A description of swimwear in the 1700s, found on Wikipedia, mentions shifts with ballooning sleeves made of thin yellow canvas. The advantage was that once wet the material filled up with water and floated around the garment's occupant and no one could see their lady-like form.
Another descriptions notes that bathing dress was also made of wool, everything in black, down to the required black stockings and there were also specially made shoes.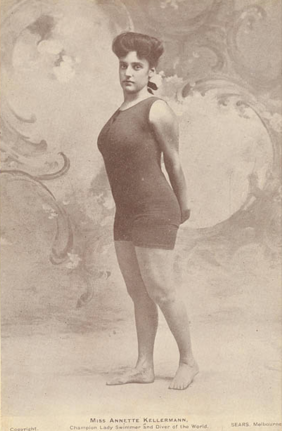 More Swimwear History…
Finally in the 1900s one brave Australian swimmer, by the name of Annette Kellerman, designed her own swimwear. Here she is wearing her one piece bathing suit that got her arrested in 1907 when she wore it on Boston beach (in the United States).
Not so different to what some people may wear now to go to the supermarket or even better when they join us on a Cool Runnings Snorkeling Cruise.
The world, however, would have to wait until the 1930s before the first modern two-piece bathing suit hit the beaches. They were, apparently, in existence in classical times, but may have been classified as underwear, but that my friends will be another story for another time.
Image of Annette Kellerman via Wikimedia (https://commons.wikimedia.org/wiki/File:Annette_Kellerman.jpg).