When you come to Jamaica and you book a boat trip in Ocho Rios with Cool Runnings Catamaran Cruises, one of the trips will take you to Dunn's River Falls with the possibility of going snorkeling. Here are a few tips about snorkeling.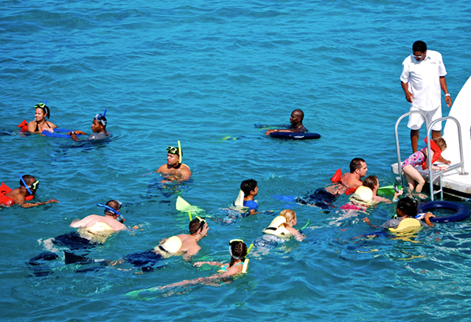 One of the first things to do before getting in the water to go snorkeling in Jamaica is to put on a t-shirt. This will protect your back and shoulders from getting burned by the sun. After this you are ready to enjoy snorkeling while held in the embrace of the warm Caribbean sea water while looking down at all the colors of the reef and the fish swimming below.
If you are going to book a boat trip in Ocho Rios you may be able to rent your equipment, but first make sure that you get a mask that fits, because it is no fun to have sea water pour into your mask on your first trip out.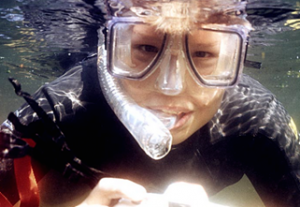 When fitting a mask, put the mask over your face, hold the strap over the top of your head, not yet behind, and inhale through your nose, which will suck the mask to your face. It should be able to stay on. This is a good fit. Make sure it is comfortable. The strap should rest high on the back of your head and not on your ears.
If water does get into your mask put your hand on your mask at your forehead and lightly press and exhale through your nose, this should clear your mask of water. Of course if water gets into your breathing tube then exhale sharply and blow the water out of the tube.
Cruise with Cool Runnings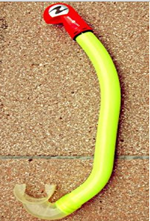 Now try a snorkel, rent or buy one with a splashguard, or something called a Dry Snorkel, which won't let water rush down the tube into your mouth. This is because it has a special valve that closes if a wave covers the snorkel, or you put your head on one side while following a fish.
Flippers or Fins are the fun part, these can be surprising when used for the first time, because the first time user is not expecting the great push through the water given by well-fitting flippers. They must be close fitting, but not tight. Your foot may shrink a little in cooler water, and you don't want fins that will rub away at your feet and cause you discomfort.
Have fun snorkeling on the Dunn's River cruise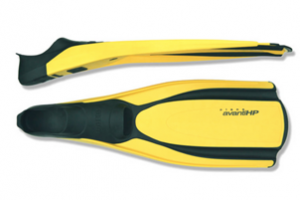 There are closed and open fins; the open fins are for those who want to wear a boot, usually scuba divers, or folks swimming in cooler water. Or if you need to scramble over rocks to get into the sea. Closed fins, like those in the photo, are said to be more efficient anyway, so if you don't need to wear a boot go for the closed fins. They are also lighter.
Last of all, remember to be lazy in the water, swim slowly you are there to enjoy what you are looking at. Now you are ready to book a boat trip in Ocho Rios with Cool Runnings Catarmaran Cruises to Dunn's River Falls. Have fun.