Cool Runnings Catamarans – Sea Cucumber
Cool Runnings Catamarans Snorkeling – There are a few of us who don't know what a sea cucumber is. Others have written about this strange creature for the TerraMar Project, but they were referring mostly to sea cucumbers in Indonesia, leaving some of us feeling a little left out. I mean we in Jamaica have at least five species of sea cucumber, each with at least a couple of local names.
Something we did not know, and we picked up from the article found on the TerraMar Project, the Daily Catch post (http://theterramarproject.org/thedailycatch/sea-cucumber/) is that when a sea cucumber feels threatened it will spit out its innards and speed away, now we are not sure how fast a sea cucumber can travel, but we know from the article that they can re-grow their intestines after, possibly they have left them sticking to your goggles.
Types of Sea Cucumbers
So, here Cool Runnings Snorkeling will list the sea cucumber species you will find in Jamaica. They are: Actinopyga agassizzi, which in Jamaica is also called Curry fish and you will find it in the coral reef and sea grass.
Astichopus multifidus is also known, confusingly, as Curry fish and you will find it in sea grass.
Isostichopus badionotus and here again the sea cucumber is called Curry fish and can be found on the coral reef and in sea grass.
Wait for it, here we have a change because Holothuria mexicana is called Elephant trunk in Jamaica and can be found on the coral reef and in sea grass.
Finally, there is Holothuria floridana, which in Jamaica is called Red Surf or flower fish, shown here, and can be found on the coral reef and in sea grass.
Image: Holothuria floridana from the reef guide http://reefguide.org/floridaseacucumber.html
You will also find these, among other places around Jamaica, near Saint Ann's Bay in the sea.
Eating Sea Cucumbers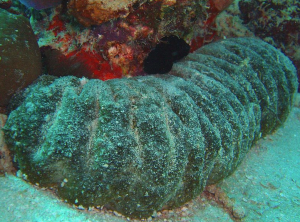 Cool Runnings snorkeling, also understands they can be cooked and eaten, which is probably why they get to be called Curry Fish so often.
A quick search of the Internet shows that most sea cucumber recipes are for Chinese or Japanese cooking, and there is a Japanese recipe for preparing raw sea cucumber. We don't recommend trying any of this as food until you have consulted with an expert.
Also seeing as the Jamaican Government has banned sea cucumber fishing while they conduct a survey funded by the Food and Agriculture Organization of the United Nations on the viability of the sea cucumber stock, concentrating on Holothuria.
Image: Holothuria mexicana by Becky A. Dayhuff, Environmental Educator via Wikipedia https://commons.wikimedia.org/wiki/File:Reef1075_-_Flickr_-_NOAA_Photo_Library.jpg
Cool Runnings snorkeling therefor strongly suggests you just look at the sea cucumber through your goggles as you snorkel, leave them in peace to go about their business, whatever that may be, and amuse yourself with looking up some recipes on YouTube.
See you soon on our Dunn's River Snorkeling cruise departing from Mahogany Bay.