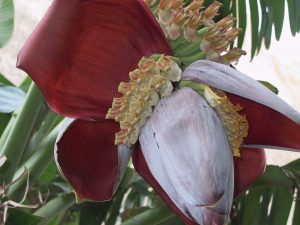 The Cool Runnings Cruises blogger just saw a post by a friend who was remarking on the wonderful purple bananas she had eaten when in Jamaica. I know we have red bananas, but I had not seen the purple ones.
Curious, I started some research and found that, apart from being a very good food, bananas are considered to be berries, botanically speaking. The rind can be green, yellow, purple, red or brown when ripe and bananas have been cultivated since 8000 BC.
Common banana varieties which are traditionally cultivated in Jamaica include
You also can find another types of fruits
Banana production in the Caribbean
Cool Runnings Cruises in Jamaica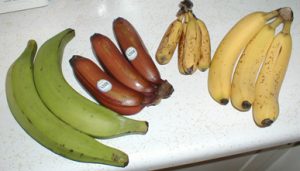 Cool Runnings Cruises found that the earliest modern banana plantations were begun in Jamaica, at one time the Boston Fruit Company, sailed the bananas out of Boston Bay in Portland. Some may be familiar with Boston Bay and its famous Jerk Chicken and Jerk Pork.
Just to give you some idea of the variety of bananas, here are four. The green on the left is a plantain, then the Red Dacca or Jamaican red banana, ladyfingers and the most common desert banana Cavendish.
The Cool Runnings Cruises' friend tells me she ate her purple bananas in Saint Mary's Parish. There is a photo of a bright purple bunch of bananas, which can be found on the Internet, but she tells me that this is not correct and the purple is more like that found in the photo of the bunch on the tree later on in this post.
The plantain, by the way, although it looks a lot like a banana is firmer and starchier and you would probably want to eat it cooked. In Jamaica plantains are boiled, fried in a pan until soft and sweet, or deep-fried and sold as plantain chips.
Cool Runnings Cruises Health Notes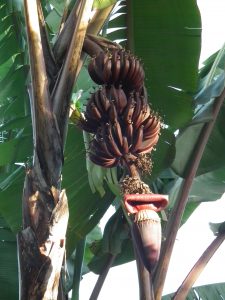 Here is a photo of the 'purple' bananas growing, which it turns out are a variety of the red bananas. They are shorter and sweeter than the yellow bananas and you can find them in Jamaica in the market.
One of Cool Runnings Cruises' favorite recipes using bananas is a very simple one. Cut up a banana in a frying pan, sprinkle it with sugar and add a pat of butter, heat this mixture and near the end add some rum, serve in a deep dish with the ice-cream of your choice.
Another is Jamaican Baked Banana and, in this is a way you can use up all those bananas that have suddenly gone brown and spotty on you.
Preheat your oven to 350 degrees F (175 degrees C).
Peel five to seven bananas, slice lengthwise and place in layers in an oven proof baking dish. Sprinkle with fresh squeezed lemon juice or orange juice over the top. Sprinkle brown sugar and nutmeg and cinnamon to taste.
Bake for around 15 minutes until the bananas have turned a pale pink. Take them out, spoon into deep dishes, add a little rum (or not), or add a drizzle of cream, or some ice cream and serve warm.
Now, remember, if you are planning a trip to Ocho Rios be sure to come and look for Cool Runnings Catamaran Cruises in Ocho Rios at Mahogany Bay. Or book your cruise right here on our website. See you soon.